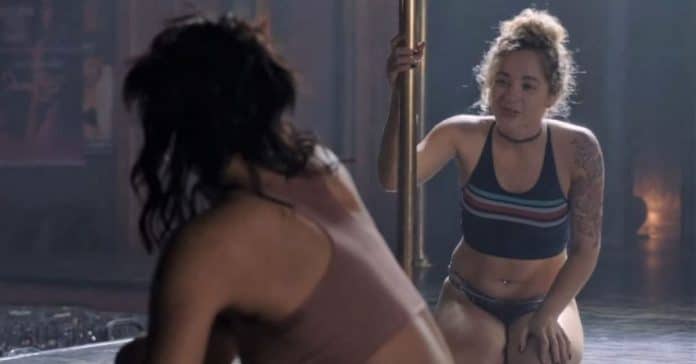 Did Gidget (Skyler Joy) Leave The Pynk in "P-Valley"? – There aren't many places like The Pynk, a local strip club, in a small town like Chucalissa. Its owner, Uncle Clifford, is gay and portrays himself in a feminine manner, despite his name. His employment, on the other hand, is a godsend to all the ladies who work with them, from top dollar girl Mercedes to new girl Hailey.
Others, on the other hand, see Uncle Clifford's business as a plague on the city, and Mayor Ruffin and his godson Andre are planning to pull the land right out from under Uncle Clifford in order to create a casino. Uncle Clifford, on the other hand, is a survivor who isn't going down without a fight.
Due to the Covid-19 pandemic, the Pynk is temporarily shuttered, and numerous events alter the fortunes of the strip club's employees. Under Hailey's reign, a new chapter in The Pynk's history begins. Keyshawn quits the strip club and embarks on a new chapter in her life. She teams up with Lil Murder, who becomes a well-known rapper.
The audience must have noted Gidget's (Skyler Joy) disappearance in The Pynk in between all of these adjustments. What happened to her? What made her leave the strip club? Will she return for upcoming episodes? Let's see what we can find out!
What Happened to Gidget? What Was Her Reason For Leaving The Pynk?
Gidget is currently in Arizona. When her mother succumbs to the COVID-19 pandemic, she quits The Pynk. However, Gidget stays in Arizona rather than returning to Chucalissa. She maintains contact with her former coworkers, or at least Keyshawn. During a phone chat, she invites Keyshawn to accompany her to the clubs in Arizona. In addition to Keyshawn's departure, Gidget's decision to leave The Pynk has created vacancies in the strip club.
Hailey holds an audition for new dancers to replace Gidget and Keyshawn, and Whisper, Roulette, and Big Bone are chosen. Gidget's return to The Pynk may be improbable now that Hailey has taken her place. Even when speaking with Keyshawn, Gidget makes no mention of going to Mississippi, implying that she hasn't decided whether or not to return to the strip club.
On the other hand, Mercedes' decision to leave the strip club may put pressure on Hailey and Uncle Clifford to contact Gidget about her return. Moreover, because Whisper, Roulette, and Big Bone are new additions, Hailey may want the assistance of an experienced dancer who is familiar with The Pynk's pulse. Given Gidget's departure from The Pynk, fans of the character and program must be concerned about Skyler Joy's dedication to the project. But, is it true that the actress has already left the drama series? Let's see what we can find out!
Did Gidget (Skyler Joy) Leave the "P-Valley" Show?
Skyler Joy's resignation from 'P-Valley' has yet to be acknowledged by either Starz or Skyler Joy. Even though Gidget is no longer at The Pynk, her video call with Keyshawn suggests that she might return if she doesn't want to stay in Arizona permanently. Skyler appears in the fourth and fifth episodes of the second season, according to IMDb.
Gidget's departure from The Pynk could be more of a story development than a sign of Skyler's alleged departure from the show. As a result of this event, Whisper, Roulette, and Big Bone are introduced into the story, as Hailey chooses the three of them to replace Gidget and Keyshawn. Regardless of the new additions, Gidget may return to the strip club, and it's unlikely that Hailey or Uncle Clifford will say no.
With these possibilities in mind, we can expect Skyler Joy to appear in forthcoming episodes of the show. Additionally, we can assume Skyler is still a member of the series until an official announcement from the network or actress on her likely exit is made.