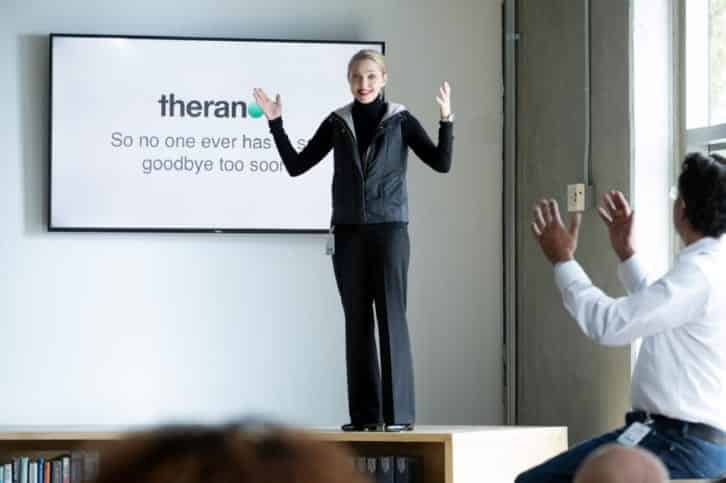 In the 5th episode of 'The Dropout,' Elizabeth Holmes (Amanda Seyfried) and Theranos' adventure continues as the company meets new challenges. With the Walgreens contract deadline approaching, Elizabeth is forced to consider a number of critical aspects of herself and her firm.
While Elizabeth considers quitting, Ian Gibbons finds himself in hot trouble with the law. Elizabeth continues her journey at the end of the episode, but she makes some questionable decisions along the way.
Here's everything you need to know about 'The Dropout' episode 5 if you want to catch up on the episode's happenings and learn more about how it ends!
WARNING: SPOILERS AHEAD!
The Dropout Episode 5 'Flower of Life' Recap
The fifth episode, titled 'Flower of Life,' begins with Elizabeth meeting with Jay Rosan and Wade Miquelon to discuss the timeframe for the Walgreens-Theranos collaboration.
However, Elizabeth hasn't provided any important information to Walgreens regarding the device's progress, and Theranos has missed previous deadlines. Wade tries to persuade Elizabeth to commit to a September deadline that she knows she won't be able to fulfil.
Sunny Balwani and the engineering team at Theranos recognise the flaws in their gadget. Sunny loses his calm when Elizabeth informs him of the September deadline, and he considers leaving the company.
In other news, George Shultz engages renowned lawyer David Boies to defend Elizabeth against Richard Fuisz's lawsuit. Fuisz is aware that Theranos' patents are registered in the names of Elizabeth and Ian Gibbons. Elizabeth did not undertake any of the scientific work required to obtain the patents, and Gibbons' evidence will expose her as a fraud.
Gibbons has been summoned to court to testify in the case. His non-disclosure agreement with Theranos, however, prevents him from disclosing the facts.
Gibbons, feeling helpless, attempts suicide and dies a few days later. Fuisz is compelled to dismiss the case due to the absence of Gibbons' testimony, but vows to expose Elizabeth as a phoney.
Meanwhile, after finding that Sunny wants to leave her, Elizabeth considers leaving her company. Elizabeth attends her uncle's funeral, where her mother encourages her to pursue her ambitions.
With a newfound feeling of hope, Elizabeth returns to Theranos. However, in order to keep the company from missing its deadline again, she makes a risky decision.
How Does Theranos Meet the Deadline in Episode 5 of The Dropout?
It's clear from the episode that Theranos' technology hasn't yet advanced to the point where it can fulfil Elizabeth's promises. Furthermore, with the deadline for completing the contract with Walgreens approaching, Theranos and Elizabeth are in a tight spot.
Elizabeth, on the other hand, solves the problem by the end of the episode. She follows Sunny's instructions and has a device from another firm with identical functionality reconstructed as a Theranos device. She intends to exhibit the device as part of the Walgreens partnership's first phase.
Elizabeth addresses her colleagues in the last moments of the episode and delivers a stirring speech. She overcomes her self-doubt and unveils Theranos' new logo. She also mentions that the company's product would be available in Walgreens stores in the next 48 hours.
As a result, Elizabeth keeps her word and provides the device. Her tactics, on the other hand, are immoral, putting Theranos on the verge of collapsing under the weight of its unsustainable business model.
Did Brendan Morris Quit Or Fired?
Brendan Morris is hired by Elizabeth to oversee a rival team of engineers to speed up the development of the Theranos gadget. He has a lovely demeanour and immediately wins over his peers.
Morris establishes a deep bond with Ian Gibbons, and the two are well aware that Theranos will be unable to fulfil Elizabeth's promises. Gibbons is seen packing his belongings and leaving Theranos in the last minutes of the show.
However, it is never clear if he resigned or was fired. Morris sends an email to his coworkers in the episode, openly crediting Gibbons for Theranos' patents. Although he could have been dismissed as a result of his actions, he is more likely to have left Theranos.
Morris is a passionate opponent of forging another company's technology. When Elizabeth decides to do the same, Morris decides to leave Theranos owing to unethical work procedures.
His remark to Tyler Shultz demonstrates his dissatisfaction with the company's policy. As a result, it's quite likely that Morris left Theranos after becoming disillusioned with the company.